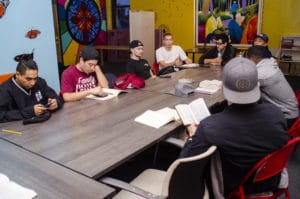 "No one really knows me. I feel lonely most the time."
Late that night, driving home from a practice session with a Chicago bboy, I was reminded of how important connection is.
This bboy, like many we work with, was in multiple crews. He would be surrounded by other men and women, either in the HIp-Hop community or staying out late at bars and constant parties.
Loneliness is not remedied by being around people. Loneliness is remedied when you are around people you can be open with and be known. It is being loved when you feel unlovable.
And in this is the heart of the gospel and why we want family sessions in every one of our cities.
Fred Johnson started the family session idea in Philadelphia, PA.
"Centered around community, vulnerability and wholeness, the Family Session was birthed in November of 2022 out of much pain and sadness in the Philadelphia dance community."
"2022 was a very violent year in our city and the dance community was not exempt from all the chaos."
We lost five talented dancers to the senseless violence that plagues our city; every event from October to December became a tribute to someone we lost. With so many people hurting I felt the conviction from the Father to provide a place where people will feel loved, will feel a part of a family, and have a place where they can be vulnerable and work through pain.
The Family session focuses on building community by bringing men together from across the city to dance, share a meal together, and be vulnerable.
There has been tremendous fruit from the family session in Philly and they have been replicated all over the world. We are excited to see the family of God built up in and from the Hip-Hop community!