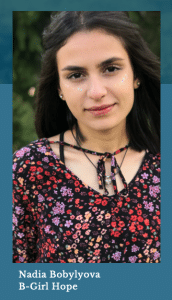 I remember the day my life was divided into "before" and "after."
Growing up in Borshagovka, Ukraine, living with eight relatives in a three-bedroom house was difficult. Showing signs of mental illness, my brother made us live in fear. No personal space, fights and emotional stressors were the norm.
Hope is hard to come by in Borshagovka. I was desperate, hopeless and didn't know what to do.
All that was before a Hip-Hop event in my neighborhood that was life changing.
The energy of the crowd and the music initially drew me in. Then, as I continued to watch, I was so excited because of the community aspect. People were unified by the different art forms. As I watched the dance it inspired me because it looked like both a physical and creative challenge.
Sergey, the leader, invited me to join the group in their dance studio sessions.
At the studio I learned that Sergei and Dima, the two teachers, were Christians. Their expertise was dance, but they also cared about me as a person. Sergey and Dima both believed in me, something I had never experienced in my life.
It was there that I heard about God for the first time. At first, I just listened to the messages every Saturday at the studio. Then I started my own Bible studies with my trainer Dima. I saw changes in myself and wanted to change further.
But after a year of study, I moved away from God. Looking back, my motive to know God was based in fear and not love. All I had known from my family was fear. Why would God be any different? How could I trust Him?
So, like all other relationships in my life, I ran away. I got involved with some really negative influences. I started to smoke and drink to escape the pain of my life. Every day became the same. I would hang out with friends and try to dull the pain.
But God did not give up on me. Questions about the meaning of life began to torment my mind.
Then, by God's grace, all of the sermons and studies I had heard from Sergey and Dima came to life! I realized that all this world can offer me is temporary. Only in Christ do I find eternal identity, meaning and relationship.
Even with my earthly family a mess, God was the loving Father I had so desired.
As I spent more time with God, I saw that He gave me a talent and a love for breaking. I went back to my teacher Dima, who was now involved with a community called Break Free.
They met for Bible studies, practiced together and ate meals together. I started going and felt like I truly belonged!
My new community helped get me away from my toxic family environment. Tasha, a missionary with Break Free, has welcomed me into her home. They have helped me find a job and even encouraged me to apply to go to seminary.
Through a lot of help, I am now a student in the undergraduate program of the Ukrainian Evangelical Spiritual Seminary!
You are part of my story. Your prayers were heard and used by God to open my eyes to the light of the gospel. Your generous donations funded the missionaries who started our gospel community and gave me a family I never had.
For a girl who grew up with no hope, you helped give me hope and I will use the investment you made in my life to bring this good news to many others!