Breaking is a very physically and technically demanding dance. It takes consistent practice over a long period of time to be good at it. Three years ago God taught me that only through Him can I be a better breaker and gain some respect in the breaking scene for His name.
I was in my second year at university and I had to prepare for the Higher National Diploma (HND) examination at the end of the school year. For that reason I decided to stop dancing during the school year so I could better focus on preparing for the examination. After a few months, I received an email saying I was invited to compete at one of the most prestigious dance events in my country. I had to either accept or deny the invitation. During that same period I read about Jesus Christ's parable of the talents in Matthew 25. This passage came up my mind immediately and I was confused on what to do. Should I accept the invitation because being invited to the event and dancing would be a way for me to use my talents ? Or should I deny the invitation because of the resolution I took at the start of the school year not to dance in order to focus completely on my studies ? I decided not to answer the email.
The list of invitees for the event came out a few days later and my name was on the list, I was officially one of the competitors. I took that as a sign from God, to compete at the event. So I planned to start practicing two weeks before the event. Unfortunately, a few days before the date I set for practice, I fell sick. I caught cold and fever. I could not practice or go to school. For one week the sickness was hard on me. Two weeks later, my condition was getting better by God's grace. Three days before the event, my health was good but not at its best. But it was just three days before the event, I could not practice at all as planned. I felt so uncertain about my capacities and skills. This caused me to pray :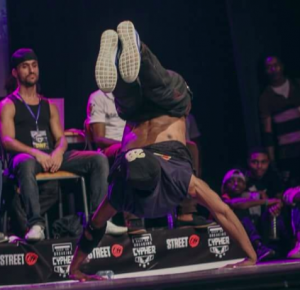 "Lord, thank you for this event and the opportunity you are giving me to be part of it. May you make the event a success and may the outcome be for your glory. Use every activity in it to draw every dancer and audience member closer to you. Father, I did not practice. Please have mercy on me and enable me to use my skills just as if I had practiced, in Jesus' name."
On the day of the event, I was fine physically but still felt uncertain about my capacities and skills because I did not practice. But I did not cease to pray that way.
The competition started. I went through the top 16, top 8, semi-finals and I won the finals. The judges told me I was probably the dancer with the best execution in the whole event. That made a big difference between me and my opponents.
Through this event and the victory God gave me, I learned that God is always the one working in us. He brings us to new levels. Apart from Him, our efforts and skills are meaningless.
Please watch the finals of the event by clicking on the link : Final Battle